Hello there, pop culture fans! This week we got in another letter from a fan, asking us to explain something from the wonderful world of superheroes.
Dear Marvelous Movies,
I've been watching this show called Doom Patrol on the DC Universe app, and there's a character named Elasti-girl, who can change her size and shape and all that. In some ways she's a lot like Elastigirl in Disney's The Incredibles movies! I thought maybe they had copied from Disney, but I found out the Doom Patrol is actually based on comics from way back in the '60s. So, which version of Elastigirl came first? Did Disney just rip off DC Comics?
From,
Dom Patrell, of Walla Walla, Washington
Thanks for asking, Dom! That's a complicated question for sure (though not as complicated as "Why on earth are you watching DC Universe now that DisneyPlus is out?"). We think we've got the answer, though, for you and the dozen other Doom Patrol fans throughout the country! Join us as we dig deep into the long and rich history of comics and franchises.
So first, let's go over the facts.
DC's characters the Doom Patrol first premiered in June of 1963, in a title called My Greatest Adventure.
Disney/Pixar's movie The Incredibles was released in 2004–over 40 years later!
Marvel first published Fantastic Four in 1961, The Incredible Hulk in 1962, and X-Men in September of 1963. (We'll come back to those in a minute!)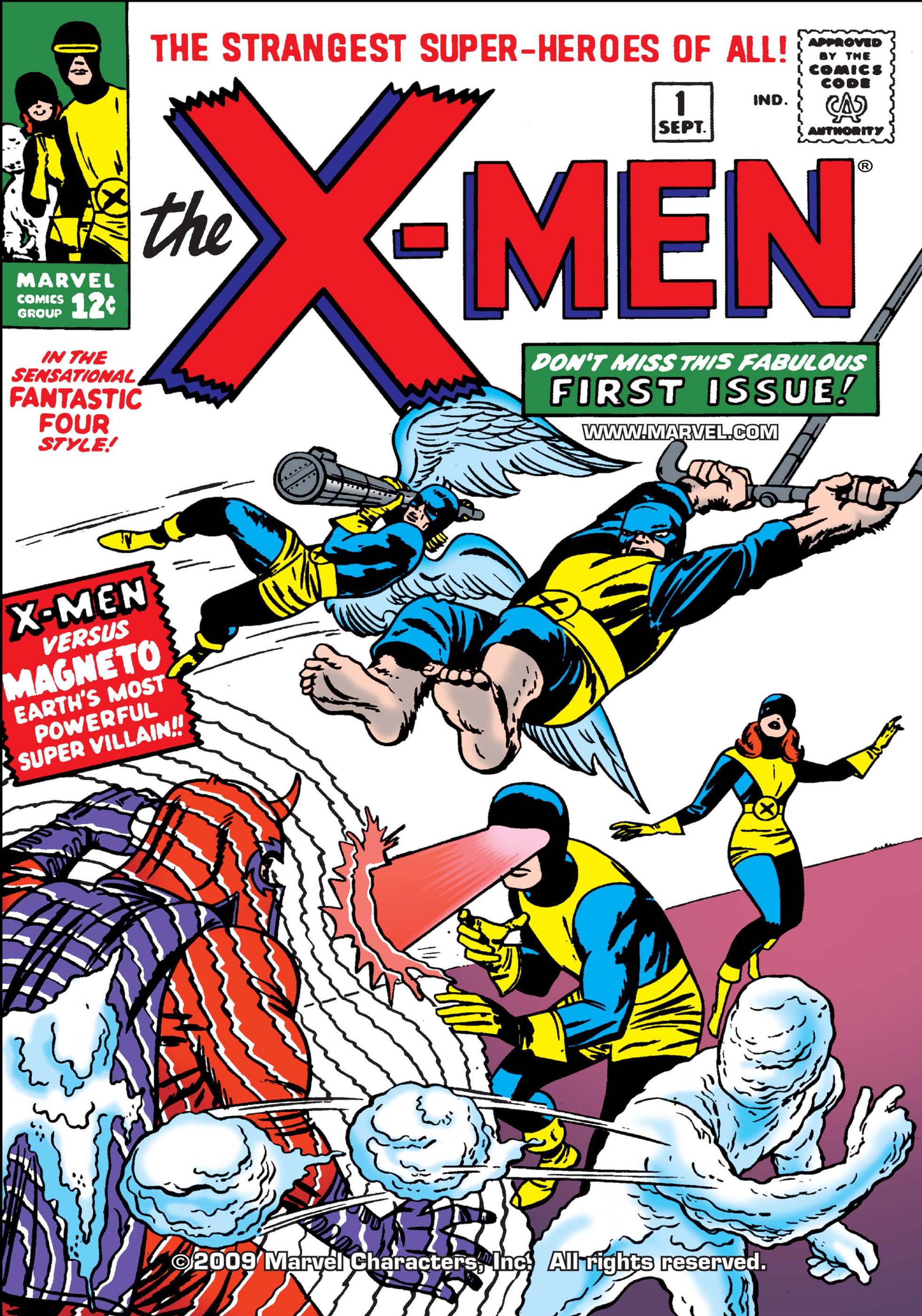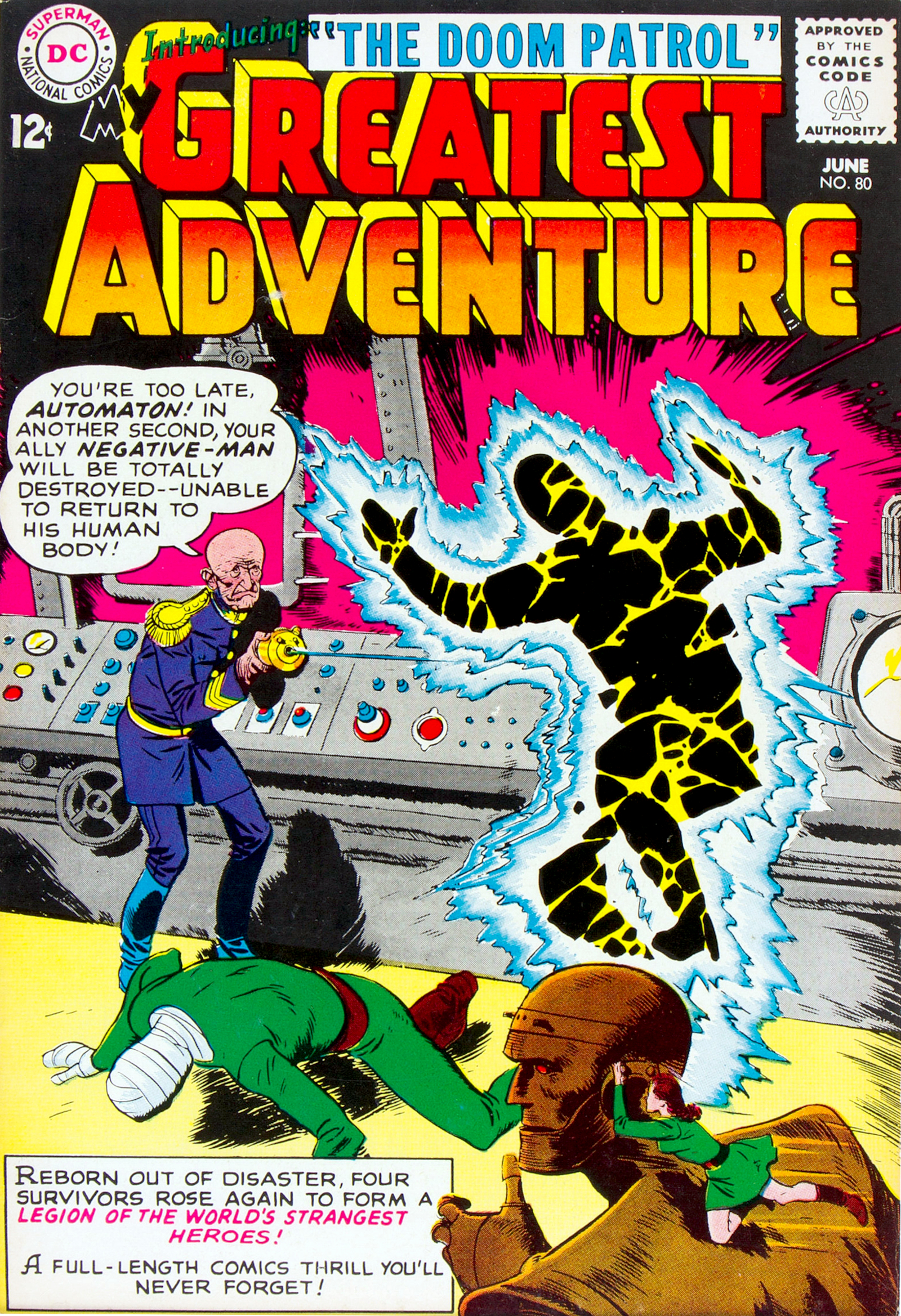 Since its very beginning, the Doom Patrol's history has long been fraught with conflicting copyrights and claims of Marvel and DC ripping each other off. It's true that both the Doom Patrol and The Incredibles contain characters named Elastigirl. It's also true that the Doom Patrol has often been compared to Marvel's property the X-Men (well, "often" is a relative term, given how infrequently anybody actually talks about the Doom Patrol at all). Consider the striking similarities:
Both series premiered in 1963 (Doom Patrol in June and X-Men in September).
Both teams are led by older men in wheelchairs (Professor Charles Xavier and Niles Caulder, a.k.a. the Chief, respectively).
The Doom Patrol's enemies were The Brotherhood of Evil, while the X-Men's enemies were The Brotherhood of Evil Mutants.
Members of both teams were "freaks" and "outcasts" rather than traditional "heroes."
Both comics served as relevant social commentary as representations of various marginalized people groups throughout the Civil Rights era, became wildly successful in the comics world with a number of spin-offs, and eventually inspired multi-million dollar film franchises that spanned two decades. Oh, wait, no…that one was only the X-Men!
Due to these Uncanny similarities, some critics have suggested that Marvel (X-Men) simply stole DC's idea (Doom Patrol) and made it much better! (Very few critics have suggested that Marvel stole DC's idea and made it worse.) But we think another explanation is much more likely. Is there really enough time between June and September for Marvel to have stolen an idea and turned it into an astonishing new comic series? In fact, would the great Stan Lee even have been caught dead reading one of the Dreaded Competition's comics? We don't think so. It's much more likely that someone from DC managed to sneak a peek at the X-Men title while it was still in the works and tried to put out a rushed, haphazard, half-baked copy so it would look like they were first. Thus was the Doom Patrol born! This is comics we're dealing with, and X-Men, too, so time travel may have been involved as well.
But we realize that your question was more about the repeated use of the name "Elastigirl." It's true that Elastigirl was a character name in the Doom Patrol beginning in 1963, and was later used in The Incredibles in 2004. And we all know that The Incredibles is basically a Marvel movie, right? For one, it's a superhero movie that doesn't suck. But also, Disney is Marvel's parent company! Some will point out that Disney didn't buy Marvel until after The Incredibles came out, but hey, this is Disney we're talking about. Do we really think they weren't already planning to acquire Marvel and influencing things from behind the scenes even back in 2004?
So the question is, did Disney/Marvel steal the name "Elastigirl" from DC?
A quick look at the facts will reveal that, once again, DC actually copied from Marvel, not the other way around! Because, while not everyone realizes this, The Incredibles was actually based on The Incredible Hulk, a Marvel title from even earlier than Doom Patrol! While the film adaptation did take a few liberties and add in some extra characters, the similarities are undeniable. They're both superhero stories, they both use the word "incredible" in their name, and Mr. Incredible has super strength, just like the Hulk! Additionally, the famous "no capes" line in The Incredibles is a clear homage to the fact that the Hulk doesn't wear a cape. Now you're seeing the connections, right? So The Incredibles was clearly Marvel drawing influence from its own comics line, not from anything of DC's.
Secondly, it's clear that Doom Patrol actually copied several ideas from Marvel–specifically from the Fantastic Four title, which debuted in 1961! The word "Doom" in the title is a direct reference to the Fantastic Four's major nemesis, Dr. Doom. And in case that connection wasn't obvious enough, they also included a character whose entire body (like Dr. Doom's) is encased in a robotic metal shell! What's next, Doom Patrol–a flying humanoid guy who looks like he's on fire? Get your own ideas already!
So, there you have it, Dom. Honestly, it's pretty laughable to suggest that the creators of The Incredibles had even heard of the obscure Doom Patrol comic back in 2004! As usual, it looks like this is just another case of DC trying to make poor man's copies of all of Marvel's great ideas! Who would have thought?
Got more questions about the complicated history of comics? Send 'em in to thegeniuses@marvelousmovies.com, and we'll answer 'em in a completely reliable, plausible, and non-biased way, just like we always do! Until next time, folks!